Erin | Jan 08, 2011 | Comments 19
Yes, that's right.  Brinner.
Just in case you have not seen this fine piece of film, I hereby share with you the clip from the notoriously funny show, "Scrubs."  It's totally worth the 40 seconds.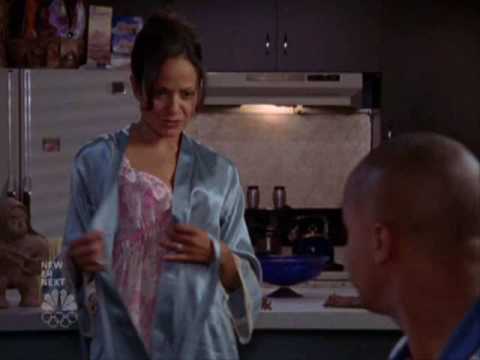 My friends Kim and Kim (funnily enough, and no I did not plan that) at Cook IT Allergy Free and Gluten Free is Life are also big fans of brinner.  What's not to like, really?  In the days before my celiac diagnosis, after a stressful day at work I would sometimes go out with some of my fellow therapists for pancakes aka "breakfast for dinner." Same thing.  Hence-brinner.
Now that I am a gluten avoider, and also a bit more aware of the impact that those carb and sugar heavy meals (pancakes, ya'll) had on my physiology and my physique, my perspective on brinner choices has evolved.
But not my love of brinner.
It's kind of hard to beat brinner.
You have many choices when it comes to preparing a gluten free, nutritious brinner.  And really, who's rules say that "breakfast" foods have to be eaten in the morning anyhow.  Really.
Here's a short, totally-not-all-inclusive list of some ideas for a celiac or gluten sensitive friendly brinner:
Hard boiled eggs
My easy egg casserole bake.  You can make a million different variations on that, keep it in the fridge and snack on it whenever the need arises.  I made one with eggs, egg whites, chicken sausage (Al Fresco brand is what I use, I'll talk more about that in just a minute) and feta cheese for Christmas, and it was tasty!
GF oatmeal and egg whites or eggs made into a pancake type thing.  This is also portable if you are on the run.  You can make a bunch of these ahead too.  If one of your goals for this year is to eat more healthfully, having a good-for-you snack prepared and ready to eat will keep you from diving headfirst into a box of GF crackers.  I hope.
And seriously too many others to list. Don't be constrained by traditional foods at certain times!
OK, so now on to my particular brinner.  This was a kind-of-a-frittata version of my egg bake.  I used Al Fresco Chicken Sausage and here's why.  There's an old joke that sausage means "we don't know what's in it either," but that's not the case with these babies.  This is the ingredient list on the Sun Dried Tomato, which is the type I use the most.
SKINLESS CHICKEN MEAT,WATER,SEASONING(SALT,TURBINADO SUGAR, SPICES,TOMATO POWDER,DEHYDRATED ONION & GARLIC,PAPRIKA,BASIL,NATURAL FLAVOR),DICED TOMATOES,SUNDRIED TOMATOES(UNSULFURED).IN A NATURAL PORK CASING.
Nice!  All recognizable as food by my great grandmother.  No nitrates, nitrites, or gluten.  And they are already cooked.
Here are the players:
Eggs (I used about 4 whole eggs)
Egg Whites (I used about a cup and a half of liquid egg whites.  As I mentioned before, there is absolutely nothing wrong with whole eggs.  The use of the combination of eggs and egg whites is to boost the protein content while keeping fat content manageable.  This is completely your call.  If you are actively "watching your weight," (watching it go down, I hope, for the most part) keep in mind that CALORIES MATTER, even calories from "good" foods.  You can get fat on perfectly healthy food if you are eating too much of it for your activity level and size.  If you want more information on that, you can read my free nutrition guide.
1 package of Al Fresco sausage, casing removed and chopped into bite size pieces.
If you choose, a type of cheese or veggie or whatever other ingredient.  This one was just egg and sausage.
Dried Herbs de Provence, sea salt, and fresh ground pepper.
The game:
Preheat your oven to 350 degrees, and mist some liquid coconut oil or olive oil into a cast iron or some other oven safe skillet.  Cast iron is cheap, lasts forever, and makes a wicked weapon.  Get one.
Heat the skillet over medium heat.
Combine your eggs/egg whites in a bowl, and whisk together for a little froth.  My Mom always added a little water to our eggs, so I do too.  No idea if that actually makes them fluffier, but that is what I was told as a child.  Don't kill my fantasy.
Add your sea salt, herbs, and pepper to taste.
Add in your sausage and whatever other ingredients you like and combine until evenly distributed.
Pour the mixture into the skillet and let it cook until is looks "set" (give it the jiggle test-it will jiggle in the middle but not the sides.)
Using an oven mitt (the handle is hot, don't forget that bit as I have) slide the skillet into the preheated oven, and let it cook about 10-20 minutes or so until it is jiggle-free and golden brown.
Serve with a salad and say yum!  Brinner!!
If you're new here, welcome!  You may want to check out Gluten Free and Fit 101 and my 5 Tips for Living Gluten Free and Fit-Day 1 is here.
What's your favorite brinner?  Hit it up in the comments and share your ideas!
Filed Under: Gluten Free • nutrition • recipes
About the Author:
Comments (19)